Instagram is one of the key platforms for Real Estate agents. Sometimes it may feel challenging to keep up with all the features that Instagram released recently.
What should you do to get Real Estate clients on Instagram?
In this article, I will describe all the tips you need to know to grow your Instagram organically.
Instagram algorithm
Instagram algorithm pushes posts in the Home Page, Explorer Page, and Recommended Post Page.
You should show up as much as possible in front of potential customers' eyes if you want to build a successful Instagram account.
Your audience's actions will determine whether you show up in the feed (Home Page, Explorer Page, Recommended Posts) or not.
If users like your posts/videos, comment, and share, the Instagram algorithm will push your posts/reels/IGTVs to the top. That's why it is important to deliver content that creates engagement because it is a huge ranking indicator for Instagram.
Instagram BIO
Let's start with your BIO because that's the first thing your followers will see when they click on your profile. Look at the example above.
A structured BIO helps to consume the information quickly 
Use of emojis helps to emphasize the structure
Clear competitive advantages help to distinguish YOU from a bunch of other Realtors on Instagram
Don't forget to come up with a slogan because it will help you to summarize your competitive advantages in one sentence
Put the most important stories in your highlights. For example, you can include customer testimonials, your favourite listings, Q&A, R/E tips and tricks, and a story about you
BIO link can be connected either to your website or to a short landing page (example below)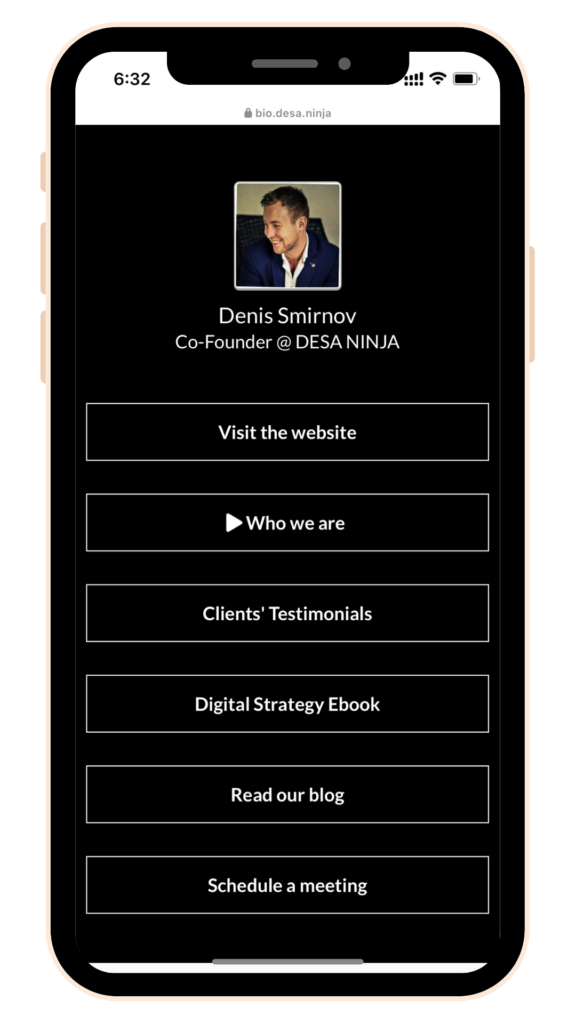 In the example above you can see a typical landing page for the Instagram BIO link.
I list the most important information that you need to know about DESA NINJA online. You can use a similar structure for your Landing Page.
You can visit our website which directs people to our home page
You can see our YouTube video
Our clients' testimonial page is really important for Real Estate
Digital strategy ebook that works for us as a marketing hook. You can use something similar. For example, seller or buyer guide
You can read our blog, alternatively, you can leave a link to your YouTube channel. You should show your expertise here
The last link is to schedule a meeting for those who are already convinced that you are the right choice for them
Here're a couple of tools to create a landing page for the BIO link: Shorby, Pallyy, Tap Bio.
Instagram Insights
You should constantly check your Instagram Insights to see if you are on the right track.
Check what days and hours bring you the most

visits

Check what content type bring your potential followers and what content type bring engagement
You can see your

Instagram demographics

to understand whether you attract the right audience or not
Instagram Captions
Instagram captions are the text that you include in every post. You should find the right format and follow it across all your posts.
Here are some tips for Instagram captions format/style: 
Tell a story in your captions. For example: you tell a fact (home prices go up), explain what do you think about it, and tell how you feel about it as a person
Use bullet points, it helps readers to consume the information quickly, people don't want to spend too much time reading every post
Don't try to make every caption too long, it's a good idea to mix different formats some posts just need 60 words and some we'll need a better explanation where you can use the full capacity of captions (up to 2,200 characters)
Don't forget to include related hashtags. Keywordtool is a great tool to find trending hashtags for your captions
Increase Engagement
Instagram engagement is one of the key elements of success on that social media platform. Here are some tips on how you can increase engagement. Engagement = comments, likes, shares
Come up with some games. For example, find a difference between two pictures
Use giveaways it can be as simple as Starbucks Coffee coupon
Use countdown stickers for your audience to interact with your stories
Tease the audience with upcoming releases. For example, tease your audience with upcoming giveaways or posts
Create savable content for your feed. Save is a very strong action that give Instagram an indication that your content is worthy. Don't use general real estate tips. Try to be specific, for example: "How to lower tax liability from property sale?"
Ask questions, for example, you can ask the audience which interior design they prefer (choose one)
Polls and quizzes, you can make a quiz. For example, how much do you think this home is worth
Create

more video content

. Videos always give you more engagement in comparison to pictures
Leverage TikTok
Most TikTokers have an Instagram profile. TikTok is the fastest-growing social media platform. You can leverage it to grow your Instagram followers.

Create a TikTok account and include your Instagram profile in TikTok.

Promote your Instagram giveaways on TikTok. Incentivize people to visit your Instagram profile.
Use Instagram Stories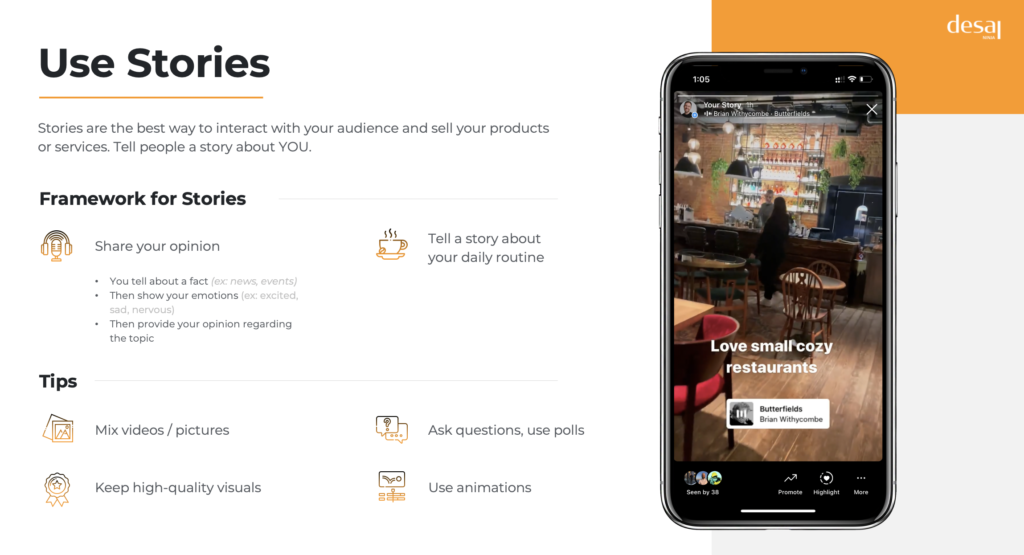 Instagram stories are the best way to keep your Instagram audience engaged and sell them your services or products.
That's the best place to show your everyday

real estate agent routine

Stories will help to connect with your potential customers on an emotional level
People are looking for a person, not just a brand
Use Reels
These are short entertaining videos intended for fast scrolling. TikTok format.
Use reels to attract non-followers (they can potentially become your followers). Reels have the broadest organic reach in comparison to all other Instagram tools.  
You have to capture people's attention within the first 3-second. You'll have to make engaging videos.
Use emojis
Add captions
Add catchy headlines
Keep high quality
Choose catchy cover pictures (you can upload them separately)
Use IGTVs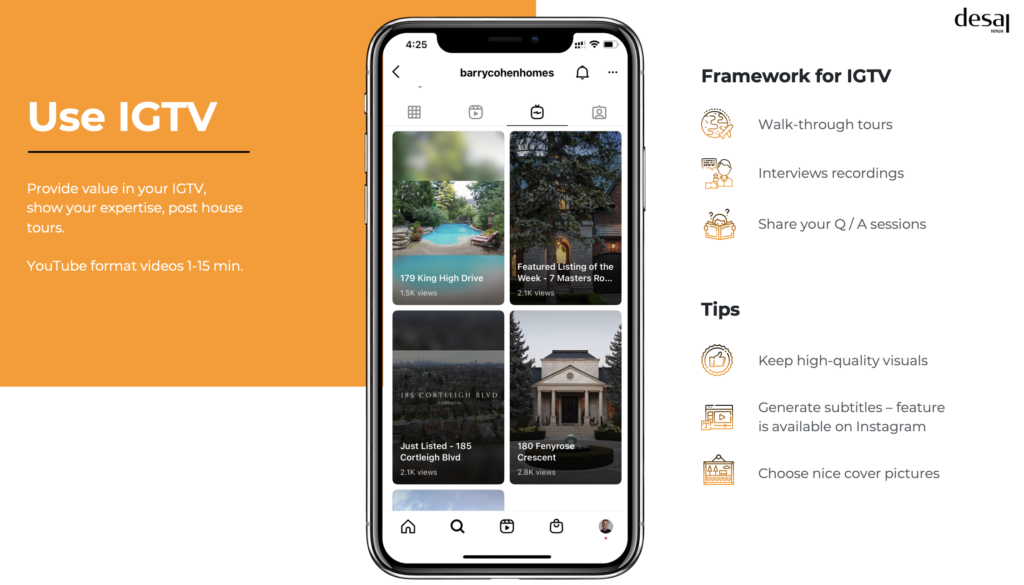 It is a long

YouTube Style video format

which helps to show your expertise. It helps convert your followers into customers
You can use this format to show house tours, video interviews, or long Q&A sessions
You can upload up to 15-minute videos on your mobile phone or up to 60-minute videos on your desktop device
Use Posts
Posts are helpful to convert your Instagram visitors into followers. They show what your Instagram page is about.
Think of them as your website homepage that either attracts users' attention or makes them leave. That's why you should use only high-quality pictures and videos.
It is important to mix formats: videos and pictures. You have to mix content types as well, personal and educational.
Videos are Important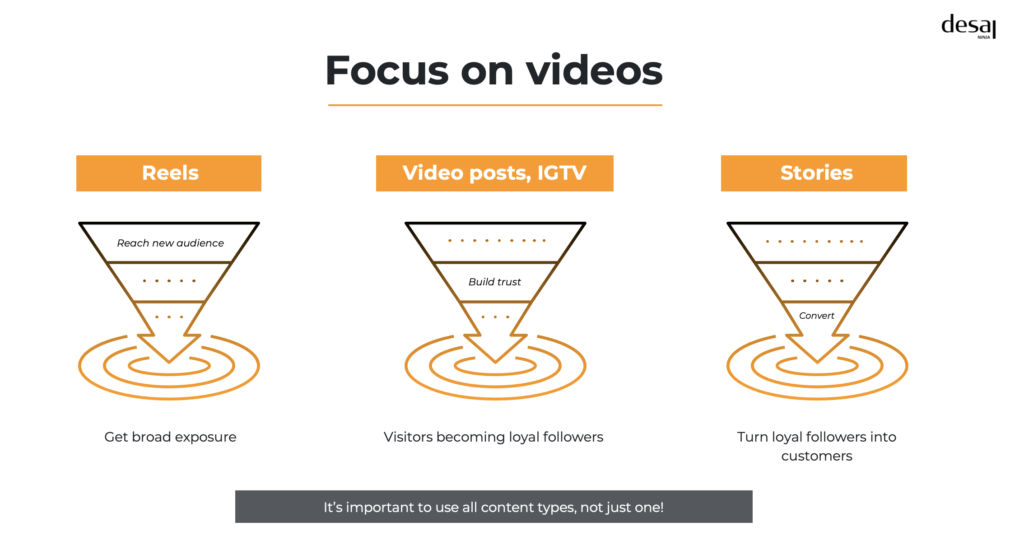 In our previous article, I discussed the importance of videos on Instagram. I said that Instagram is becoming TikTok they are focusing on video content more than pictures (Instagram's CEO considers depreciating photo posts at all).
Videos are the key content type in your Instagram strategy.
Reels will attract potential followers
Video posts and IGTV will build trust
Stories will help you convert followers into customers.
Every continent piece is important for Instagram. It is about a good balance between all content types. As a real estate agent, you have to show that you are a trustworthy local expert who genuinely loves Real Estate.