Whether you're a big corporation with hundreds of condos, a small developer with 5-10 houses/townhouses or a realtor with an assignment deal you need to market your pre-construction project to generate a pool of potential buyers. In this article, we will talk about innovative marketing ideas for doing that.
Challen
Buyers need to envision their future home
The pictures from above are what customers used to see when they are shopping for pre-construction projects. The challenge here is that not everyone has the ability to envision floor plans as actual homes.
How my home will look like from the inside?

What layout will better fit my needs?

How a queen-size bed will fit with two drawers into a bedroom?

Where do I place my sofa and a TV stand?

Is it big enough for my family?
All these questions have to be answered to sell a project.
Time
We need to generate leads, pre-qualify and nurture them. It creates a burden on you and your sales team, especially if you're a solo realtor or a small developer. According to recent studies, it's getting harder and more time-consuming to engage with customers.
An ideal solution has to create enough interest so we need to follow up with them less. We need a solution that would create an automated pipeline of customers.
In the meantime, we don't want to get involved in customizing something from scratch that would drag us in a lot of back and forths and time-consuming meetings. We want to find something that works well for pre-construction projects and just implement it. Something that ideally works at any scale.
Cost
There're a lot of solutions available on the market. But sometimes high-quality projects cost too much for whatever we're ready to spend on them.
Cost to consider:
3D rendering – envision a future home
Landing page/Website – capture leads
Facebook/Instagram – generate leads
CRM – pre-qualify/nurture potential buyers
Great news is that we all-in-one plug and play solution for you.
Solutions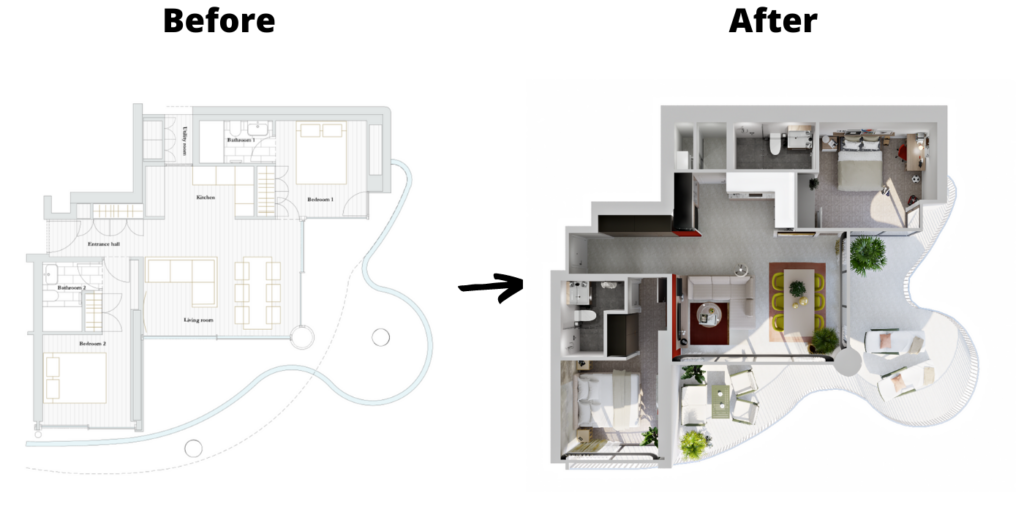 Interactive floor plans
Our interactive floor plan solution helps buyers to envision their future homes. It is a cost-efficient and scalable solution for pre-construction projects of any size. It provides buyers with a clear vision of apartment size, layout and possibility to fit their needs. We require a 2D floor plan from you. Just mention the rooms (kitchen, bathroom, bedrooms) and we can generate a colourful 3D floor plan with furniture in it.
3D floor plans can be visualized at any angle so it is easier to see a home in every detail.
These 3D images can be used for attracting leads as well as helping to convert them. We suggest using them in Facebook/Instagram lead generation campaigns. It will look way better than just 2D floor plans and help to differentiate yourself from myriads of other real estate-related ads.
Whether your a real estate agent or a developer it is crucial to be ahead of your competition. These 3D ads show that you really CARE about your customers by helping them to envision their homes. It helps to build relationships right from the start when customers see your ads the first time.
All 3D images can be used for print advertising as well. Do you want to create flyers and distribute them throughout a neighbourhood? Print several different layouts of your new condo building to attract customer's attention.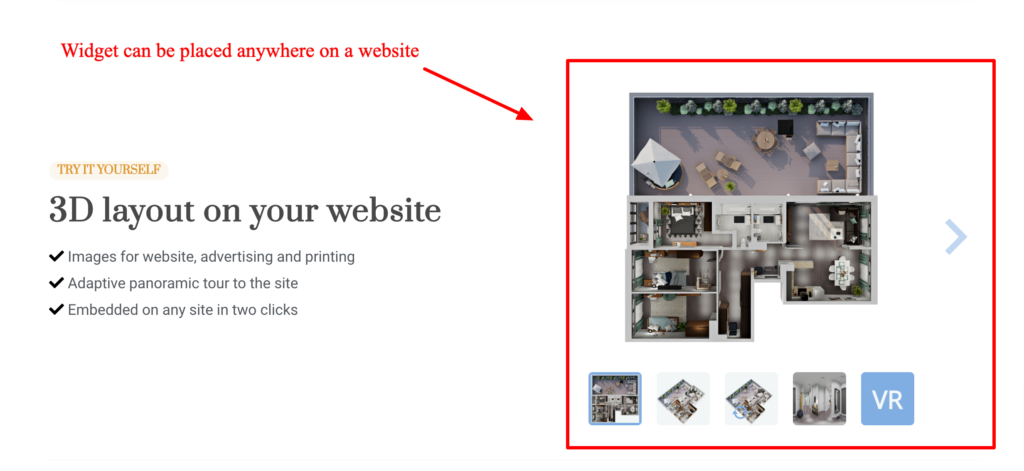 Widgtes
Landing page and our widgets
3D images attract attention which helps to gather contact information (leads) but a landing page helps to tell a complete story of your pre-construction project to sell it. We provide you with a widget that can be embedded on any website where people can see the 3D models from different angles and even rotate them.
The widget is mobile-friendly and can be viewed on any screen size. It doesn't matter what technology is being used for creating a website, the widget will work with anything.
It is not time-consuming to integrate the widget. It will take a couple of minutes to implement it and your landing page is ready to sell.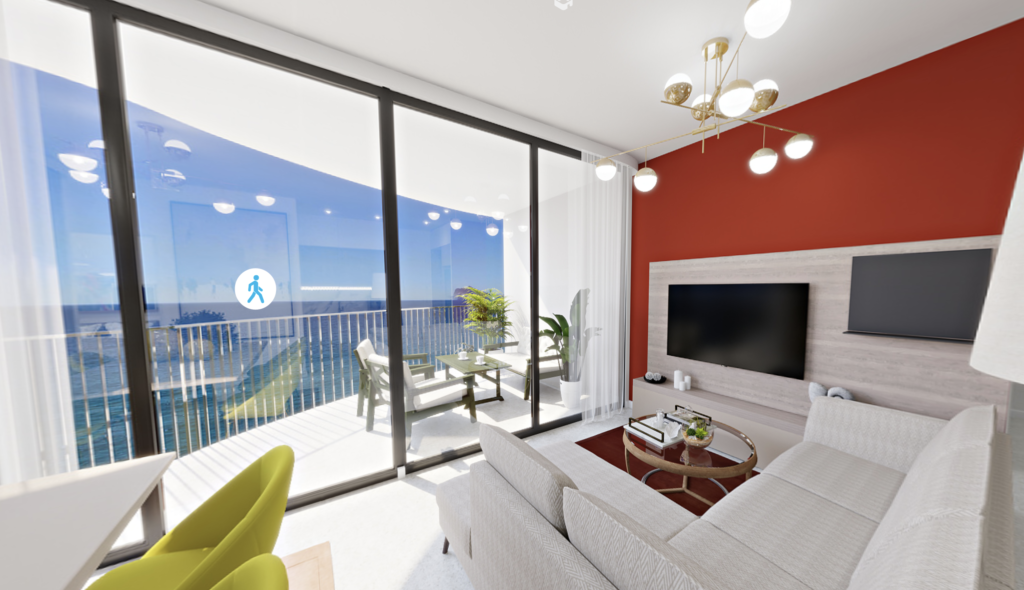 Interactive 3D walkthrough tour
If 3D images and a landing page haven't convinced our visitors to give us a call or book an appointment we have one more feature in our marketing arsenal. Full-screen 3D interactive walkthrough tours give users a chance to visit their future home from a laptop or mobile phone. You can click on a screen and walk through homes. Take a look yourself!
Moreover, these walkthrough tours are part of the widget that is already placed on your website. It doesn't require any extra effort or new technology to implement it. Simple plug-and-play solution for your pre-construction project.
Digital Strategy for Pre-construction projects
The digital strategy for Developers:
Facebook or Instagram ads generate attention
Print materials increase reach and might help to target older demographics (use 3D models in your print materials as well)
People Visit your landing page and interact with a widget, learn more about your pre-construction project
They book a call
The representative shows different options using interactive floor plans
The rest of the selling process
Remarketing ads with different options follow potential buyers while you're negotiating the deal
CRM helps to stay in touch throughout the selling process
The digital strategy for Real Estate Agents:
Facebook or Instagram ads gather contact information (leads) – you use 3D images
CRM sends an automated text message and a follow-up emails
You have your pre-con listing/assignment on your website (widget is placed there as well)
Clients call and book an appointment
Negotiation
What do we need to produce a 3D version of a floor plan and a walkthrough tour?
We need a simple sketch from you. We can create a 3D version from anything. Just mention where are bedrooms, bathrooms and living rooms, we take the rest.
Do you have exact dimensions? – No problem we can work with it as well. We can visualize dimensions and make a precise copy of a 2D version in 3D saving all the proportions.
You don't know where to place the furniture? – We will help you with that, our designers will help you with that.
Already have an idea where to put the furniture? – No problem we can follow your plan
What if I don't have a design idea? – We provide you with a range of design templates that you can choose from: Scandinavian, Contemporary, Provence, Loft, Minimalism, Bauhaus and Lounge.
What I have my own design vision? – Great let us know what do you want to see in your 3D model and we will implement it.
Do we need anything extra to create walkthrough tours? – No, the same sketch is enough, the final result comes as a package.
Conclusion
3D images, widgets and interactive tours are meant to change the customer experience entirely. It is all about getting as much information as possible to our potential buyers. Help customers to make educated decisions. Take care of their needs and concerns. We help developers and real estate agents to stand out from competitors and make buyers life easier by providing them with cost efficient and innovative digital solutions.