It's no secret that you need to build an outstanding website for your real estate business and upload killer listings.
But that's just not it.
If you aren't focusing on Search Engine Optimization, you'll be less likely to generate clients from your website.
The world of Search Engine Optimization (SEO) is complex and ever-changing, but with this blog post, you can easily get the basics.
Even a few tips listed below can make a big difference for your real estate website.
What is SEO?
SEO stands for Search Engine Optimization. In a nutshell, it is a set of tactics to rank a website higher on Google.
For example, when you search for: "real estate agent new york" these results show up on Google: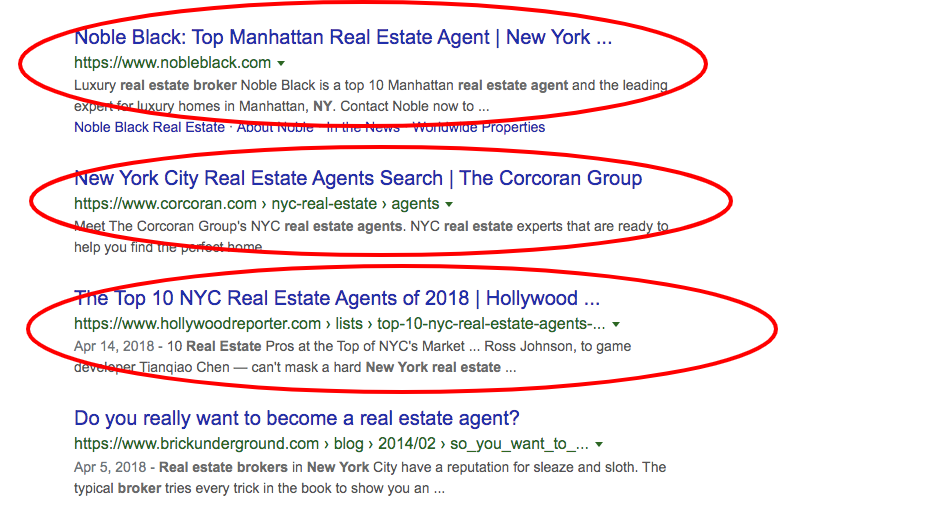 Google has an algorithm that ranks web pages based on numerous (over 100!) factors. This algorithm is very dynamic, constantly crawling the internet and looking for the BEST CONTENT to rank it higher.
Why is SEO so important?
In our previous articles, we described how to generate leads with Facebook ads (The Reality of Facebook Ads, 5 ways to get More Conversion on Facebook).
In this article, we approach the same goal from a different angle. SEO allows us to get the same results for free.

According to Moz, results on the first page receive between 71% to 93% of all clicks. But being on the first page is not enough because only the top 5 results receive nearly 67% of all clicks. This means you have to be within the first 5 results of the search page in order to get the traffic.
More website traffic – more potential customers (leads). Here we have a detailed article on how to generate leads for free.
The main goal for a Real Estate agent is to get a website among the first 5 results.
Further, I'll explain the crucial concept of SEO alongside with most effective tips on how to rank your website higher. 

Top 8 tips:
Concept: You rank pages not a website
There's NOT such a thing as a WEBSITE RANK.
If you want to attract buyers, you should build pages for them. What type of articles they might be interested in? Ideally, you need to create multiple articles for each topic.
TOPICS would be:
Sell Home
Buy Home
Taxes
Real Estate Investment
Rental Property
We can breakdown the "Sell Home" topic by multiple sub-topics. For each sub-topic, you can come up with 1-2 articles
SUB-TOPICS for the "Sell Home" topic would be:
Prepare your home (you can write 1-2 articles about it)
Adverting (1-2 articles)
Negotiation (1-2 articles)
Closing (1-2 articles)
ETC…
If we take the first sub-topic "Prepare your home" there's the opportunity to create multiple articles and each one will RANK DIFFERENTLY.
For example, ARTICLES for the first sub-topic "Prepare your home":
How much to spend on renovation
Home staging tips
Photo tips for home sellers
Things you should know before selling your house
Analyze which article performs better than others and add some new content to it. Look at the number of page visits and average visit duration in Google Analytics to determine Page performance.  

Tip 1: Length of an article
A lot of people ask how long an article should be? From our experience, articles between 900 and 1500 words long rank higher in Google.

Don't try to make it long without adding extra value. Google will lower your rank if it detects that people don't engage with your content.

Suggestion: Focus on providing as much VALUE as possible, not on making it long.

Tips to add value to your blogs :
Tip 2: Use ALT tags 
What are alt tags? ALT tags stand for "alternative text". The Google algorithm uses these alt tags to identify what's in the picture. Detailed ALT tags help Google to find relevant content. The relevant content ranks higher which is our ultimate goal.

Alt tag for this picture above would be: "Living room with an extra large coffee table"
Tips on writing perfect ALT tag:

Describe the image and be very specific
Don't start describing the picture with words "image of", "picture of"
Don't try to include your keywords into every single alt tag
Keep it relatively short, under 125 characters
Why is it important to create ALT tags?
Nowadays the Google image search is almost as big as the standard search. Don't miss the opportunity to get FREE TRAFFIC. Tag your images correctly and receive leads for free.

Tip 3: How to find what to write about?
A lot of Agents ask us what to write about in order to rank high on Google. From my experience, the best approach is to see what already ranks high and try to replicate it and make it better.

Don't limit yourself to just one article. Take a couple of competitors and merge their ideas into one. Always focus on providing more value.

The other approach is to find topics on quora.com
Quora is a good source of questions. See what people ask, how they ask and how others answer.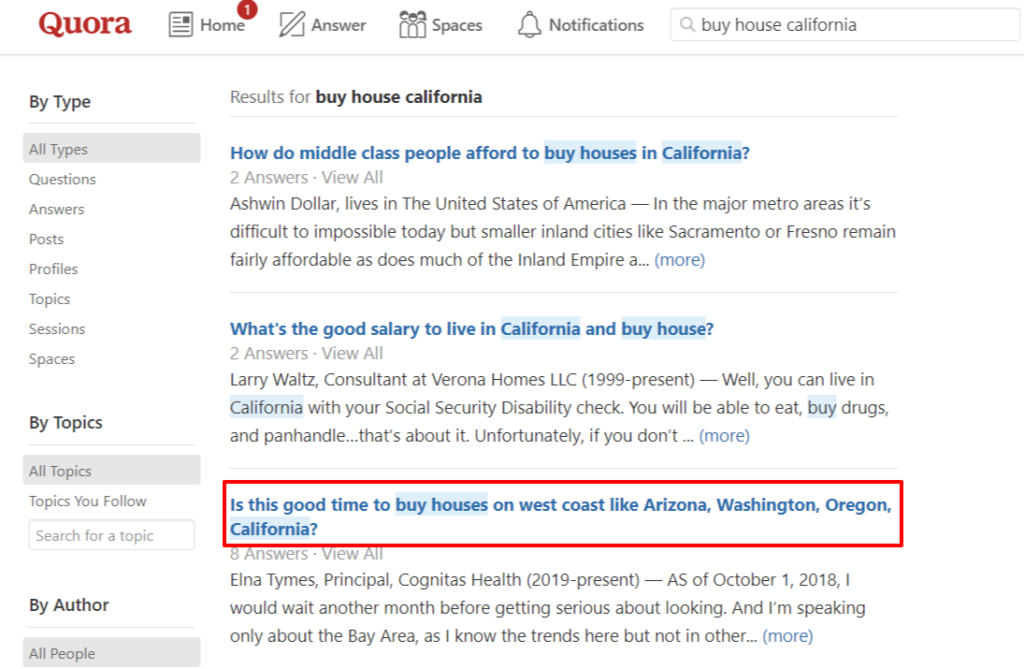 In the example above I typed "buy house California" in order to find what people are searching for in California. The 3d result is a perfect example of a POTENTIAL ARTICLE for realtors in the West Coast.
Tip 4: Internal linking 
Don't forget to link your articles. This provides CONVENIENCE to readers, they can explore your content without going back and forth between blog/home pages. The Google algorithm rewards pages with internal links by ranking them higher.
Internal links Example:

Tips for internal linking:
Link most successful articles to new ones
Offer readers to learn something more in-depth
You can suggest other articles in the end
Include navigational links: back to a category, back to a blog or a home page
Tip 5: Think mobile-first
I keep repeating it in almost every article. Stop thinking of a potential client as someone who is sitting in front of a computer when they find your website. Even in Real Estate User Experience shifted towards MOBILE USAGE.

Creating your content for mobile users should be your priority. Make sure you have a mobile-friendly website. Check how your articles look on different mobile devices.
The easiest way to check your mobile version is to use Google chrome inspector.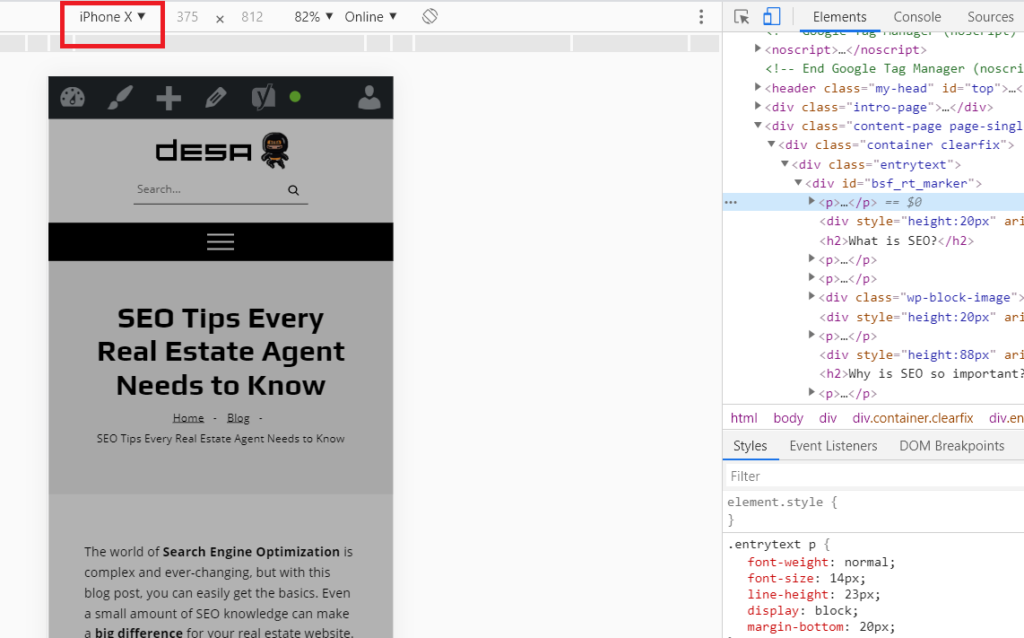 Open website in Google Chrome
Right mouse click
Click inspect element
Click on the phone image (top left corner on the screenshot
Choose the device type
Tips for mobile-first content strategy:
Text is readable without zooming
Links are spread out within articles to make it easy to tap
User don't need to look at your content horizontally
Your website loads fast (Page speed test)
Images you use are web-optimized (reduced size for fast loading)
Tip 6: Make your website secure 
Google rewards secure websites. A small lock sign in the browser means that the website is secure. Google rewards secure websites by ranking them higher.

How to make your website secure?
In order to make your website secure, you have to acquire an SSL certificate.
You can get an SSL certificate from your hosting provider: HostGator, HostPapa, GoDaddy, GoDaddy.
They usually offer free and paid versions of SSL. Here's a more detailed article on website security.
Tip 7: Acquire backlinks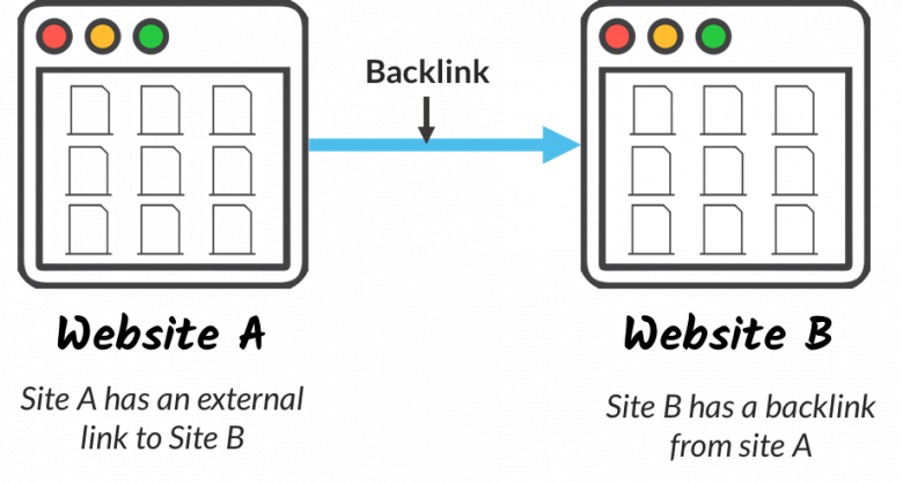 What if I told you that not focusing on backlinking might turn out to be one of the biggest mistakes of your professional life?
As we already know, Search Engine Optimization is all about optimizing the content on your website, such that search engines prefer to display it at the top of the search page.
And let me tell you that link building is one of the most crucial parts of SEO.
Link building is nothing but acquiring high-quality backlinks to your website.
Higher the number of backlinks that you have on your website, the better will your content rank on the search engine rankings.
But what exactly are backlinks? And how can you generate a higher number of backlinks to your real estate website?
That's exactly what we will learn in this part.
We will take a look at what backlinks are and a how to acquire them for your real estate website.
Let's dive in.
What Are Backlinks?
According to HubSpot,
"Backlinks also referred to as inbound links, are links that come from other websites to yours. The links can be placed in images, texts, or buttons, as long as the sources are different. Each one of the connections is referred to as a backlink. Backlinking is one of the most vital aspects of SEO, as it's the factor that will help you increase your ranking on search engine results."
And let me tell you that earning backlinks will be hard.
But, in the end, it will be worth every second that you spend on working towards achieving it.
Why is it a hard process?
That's because linking to another website is not just a matter of a single link.
Instead, it's a recommendation or a vote of confidence through which the publishers on the other websites claim, "Here's a source that we trust. You can head over to the source and check it out yourself."
Don't worry! Let's take a look at a few of the tips or tactics that you can equip to make this process a whole lot easier for realtors.
4 Ways To Generate Backlinks To Your Real Estate Website
Here's how you can do that:
Guest Posting
Reclaim Unlinked Mentions
Use Images
Publish An Ultimate Guide Or Multiple
Let's take a look at each of these tactics one at a time.
Guest Posting
Guest posting's one of the most effective and reliable as well as trusted tactics of building backlinks.
It's all about posting guest articles or blog posts on different blogs.
Don't just stick to real estate related topics because you will exhaust all possible topics too fast.
Instead, you can focus on your local area, review your favourite food joint, things to do in your neighbourhood, places to visit, etc.
Once you start generating backlinks from the different authoritative websites, your website's rankings will start improving for specific keywords.
Here's a list of a few of the benefits of guest posting:
Get High-Quality Traffic
Build Domain & Search Engine Authority
Build Your Own Influence
Develop Authority
Build Your Credibility & Portfolio
Improve Your Writing Skills (You may even hire a copywriter)
Increase Brand Awareness & Exposure
Position Yourself As An Industry Expert
Reclaim Unlinked Mentions
It's one of the easiest ways of building high-quality backlinks to your real estate website.
What if a publisher hasn't linked back to your website while mentioning your real estate brand or its product and services?
Well, it's time to reclaim those unlinked mentions.
All you require to do is to learn who's mentioning your brand, in the news or the blogs.
You can simply start using Google Alerts for the purpose.
If you are looking for more insights in your mentions, you can simply equip tools such as Ahrefs Content Explorer, BuzzSumo, etc.
Sometimes, you will notice that the author hasn't linked back to your website while mentioning your product, service, or brand.
All you need to do is to send the author a quick note, asking for proper link attribution.
Not only will it help you increase your real estate brand's authority, but you will even be helping the publisher give their readers an outstanding experience.
Use Images
One of the best assets you can equip in your arsenal and share it with the world is infographics.
Believe me, you will be earning tons of backlinks to your real estate website. Infographics are the deal-breakers.
You may experiment with them. However, you always must keep in mind that you carry out thorough research prior to creating one. And the infographics should add value to the lives of the readers.
What if infographics don't work for you?
Don't worry! You may even consider different visuals such as:
One-page templates
Diagrams
Graphs & Charts
Free photo galleries
Publish An Ultimate Guide Or Multiple
It's a piece of content that provides the readers with every single bit of information that they need to know about a particular subject.
Ultimate guides are the most comprehensive and one of the best resources for people.
In an ultimate guide, you will be covering almost everything that your readers might be looking forward to knowing about a particular subject.
Listed below are two potential examples:
An Ultimate Guide To Home Buying
An Ultimate Guide To Home Selling
These guides will help the bloggers, as well as journalists, prepare high-quality value-adding blog posts. And they will be referencing a concept that they mentioned.
That's how you will be generating high-quality backlinks to your website.
Let's assume that a blogger wrote an article on the following subject:
"5 Things You Should Keep In Mind Before Buying Your First House"
In that case, the blogger may refer to the ultimate guide, namely, "An Ultimate Guide To Home Buying" and add some key points from the guide to his blog.
And if the viewers need some additional information, the blogger will be linking to your guide, thereby helping you generate high-quality backlinks to your website.
Well, let me tell you that it will definitely be hard. But it isn't too complicated once you get the hang of it.
All you need to do is to carry out thorough research prior to beginning with the process.
It's one of the most effective ways of reaching out to your audience and improving your search engine rankings.
However, it won't be a one-off thing.
You need to keep testing, monitoring as well as executing various strategies for as long as you are in the real estate business.
In the end, it'll all be worth it.
Conclusion:
SEO is a crucial part of overall digital marketing success. Follow the tips and focus on providing value to your users. Every year Google improves its ranking algorithm. The goal of these improvements is to find HIGH-QUALITY CONTENT and disqualify cheaters who care about short term results only.
Think of your favourite magazines or newspapers, what makes it easy to read them? Translate your observations into the online world.
Be different.